Browsing articles from "March, 2013"
Mandalay is a dusty town with impressive temples. Going east into Shan (Thai) country …
click on a picture to enlarge it
MANDALAY WORKSHOPS
Not shown: puppet workshop, material mosaic workshop
TEMPLE LIFE, MANDALAY
ROAD FROM MANDALAY TO HSIPAW pronounced Ti-paw.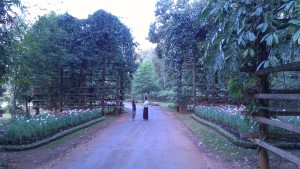 HSIPAW an interesting outlying town on the way to China
In Bagan, Myanmar there lives a stone. Captured in 1112 and now in jail for a thousand years, it tells of … it doesn't matter… the point is that it has four sides each written in a different language: Mon, Pali, Old Burmese and Pyu. And as a result of this linguists were given insight into these ancient languages. This  Myazedi inscription can be seen near the Myazedi stupa, in it's own cell.
People come from far and near to be photographed with foreigners next to the inscription.
When David was a boy he'd get to school early for a game of pre-class soccer and then stay late for a game of post class soccer. Here's an unedited video snippet of how the game is played in a Cambodian village.
Angkor Wat
Angkor Wat is a Hindu Temple to Vishnu (the Protector God) so it is built to resemble Mount Meru the holiest place in Hinduism, hence the three peaks. As the Khmer king is god on earth it is a fitting place for him to live.
It is not easy to enter Angkor Wat. You need to travel from Earth to heaven. You need to cross the primordial waters and arrive at the inner courtyard from where you ascent to heaven.During your ascent you see murals which tell famous Hindu tales and on your leaving you see murals which tell of the warrior prowess of the Khmer king.
Here in pictures, "To Heaven and Back"
Bagan is one of the world's gems.
Bagan is situated on a red earth, scrubby, plain. Over the course of 250 years (from 1044 to 1287), Bagan's rulers and their wealthy residents showed it off by building over 10,000 religious monuments in an area of 104 square kilometres (40 sq mi).  (about 1000 stupas (towers containing Buddhist relics also called pagodas). Today, about 4,000 remain.
In twenty years Bagan will be a must visit place on any itinerary to Asia. Today it is a place of sand roads, run down hotels and home based restaurants.
Click  Indian Belief Systems  to read an abstract on Hinduism and Theravada Buddhism.
Not for the casual browser. This is part of David's Humanities curricula for Yannay and Daniela.
Click  Chinese Belief Systems to read an abstract on Chinese Folk Religion, Taoism, Mahayana Buddhism, Confusion-ism.
Not for the casual browser. This is part of David's Humanities curricula for Yannay and Daniela.
This test was taken by Yannay and Daniela. Grade A+.
1. Describe the design of the Myanmar Buddhist stupa pictured below especially the symbols of Buddhism. (South East Asia Review Test – click on the link and scroll down to see the picture of the stupa.)
2. Who was the Buddah? In point form (no more than 7 points) describe his life story – birth, childhood, adulthood?
3. How do Buddhists view life?
4. What is the main objective of life for a Buddhist?
5. What is the main objective of life for a Taoist?
6. How do you achieve the Buddhist objective?
7. How do you achieve the Taoist objective?
8. Describe how a monk's life meets the requirements of a Buddhist life.
9. What are some main differences between Theravada and Mahayana (Pure Land) Buddhism.
10. What is Chi?
11. What is Feng Shui?
12. What is Ancestor Worship? And how is it practiced in South East Asia (What have you seen)?
13. What is Animism?
14. What are the main three Hindu Gods and what is each one's role?
15. What are Hindu Castes?  Name them.  What caste did Swastika belong to?
16. Name the main Hindu symbols and their meanings.
17. Symbolism of incense in Chinese temples.
18. Purity and Impurity in Hinduism – bonus
Bangkok, Thailand
1st – 3rd March, Riva Surya Bangkok Hotel. Visit Palace, Jade Buddah Temple, Markets, bargain but they're hard on prices, swim, cabbages and condoms restaurant, homework, breakfast across the road.
Jerusalem, Israel
4th – 9th March, Ahron Berkley's Barmitzvah.
5th March - Avia, Daniela and Yannay take the South East Asia religions and geography test. A+ for all.
10th March Visit Dome of the Rock, Temple Mount in Jerusalem.
11th – 24th Hebrew Language Ulpan and Homework
25th – 31st Pesach, Cesarea.
Recent Posts
Archives
Tags