Browsing articles in "Blog"
If your 3 kids go to a private school and take additional lessons say in music, or tutoring you'll save about $60,000. Cancel your car insurance and no gas bills will save an added $7,000. Now rent out your home or stop paying rent. This will add say $3,600 to $4,500 per month.
All this adds up to about $115,000 of saving and income, just by leaving for a year.
Your expenses for the year include travel health insurance, flights, accommodation, food and the cost of attractions.
Food: In Asia, our family budget was $20 per meal. The most we spent on a meal for for the 5 of us was $30. Supermarket food in Europe is significantly lower cost than in Canada. Italy's Co-op sold 1kg of pasta for 40c. And may items for a Euro or less. On average we spent about one third on food in Europe than we would have in Canada.
Accommodation: Stay in beautiful hotels in Asia for $45 per room per night. In Europe and Australia we rented 2 bedroom furnished apartments for $150/night. Some places we spent $250 per night.
Travel: Flights in Asia and Europe run around $100 per person per leg. In Europe bus travel is reasonable for example from Berlin to Vienna costs Euro44 on the bus with snacks and wifi. We did rent a car in Italy and France for about $200/week. That was an expense.
Attractions: Entrance to attractions and exhibits can be quite expensive. Just last week we visited San Fransisco. Entry into the Exploratorium (Science World) cost around $120 for the 5 of us. Most of the things we did in Asia didn't include an entry fee. But I like to use guides to teach us, which adds some expense but is generally more than worthwhile given the cost of getting to the attraction. For example, we visited Yangon's Shwedagon Temple twice, once alone, once with a guide. The guide provided a texture and insight we could not have alone.
Alot has changed during the 20 years since I last visited Berlin. Then, I arrived by train from Prague to the East Berlin railway station and had to find a way to get to the west. There was nowhere to stay in the East, back then. Now the East is where the action is at. It is one of Europe's cheapest cities to live in and one of it's most artistically diverse.
It seems change is endemic to the city. Back in the 1920s, when Berlin was the world's third largest city and a center of liberal thought, my Grandfather Oscar Lazar studied at the great Humboldt University. That's the same university taught in or attended by Hegel, Marx, Engels, Heine, Einstein, Max Planck and other luminaries. Oscar left Berlin in 1929 when the great depression led to massive hyperinflation. Thank you, depression. Little did Oscar know that only 4 year later, in May 1933, his fellow students would be burning books and killing local Jews. (One third of faculty was Jewish. And Jews paid 25% of the city's taxes.) Only 10% of all Jews living in Berlin in 1933 survived the Holocaust.
Called Destroyed Diversity, Berlin marks 2013, the 80th anniversary of the events of 1933, with exhibits along the main street, Unter Der Linde. Each exhibit marks the racist and fascist events of 1933 and bemoans the loss to Berlin that Nazi policies engendered. It tells the personal stories of people who were forced to flee or were killed during Nazi rule. A little past the Brandenburg Gate a more permanent exhibit outside the Reichstag (Parliament) numbers the 80 or so Jews who worked in the Reichstag when the Nazi's took power. They disappeared in the putsch. And a bit further on the Holocaust memorial: 2,711 gray stone slabs unmarked with names or dates.
One of the biggest jewish communities used to live in Juderiah the jewish quarter of Seville, before the inquisition in 1492.
After beeing completely destroyed the area is now beautifully rebuilt, but only 90 jews returned to live in Seville, none of them live in this area.
We didn't realize before taking the jewish tour that almost nothing original remained to to be seen. Our tour guide who was had a great knowledge of history and made the tour worthwhile.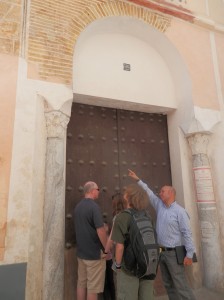 once the entrance to a synagogue which was a mosque and later became  a church.
during renovations a little piece of the synagogue was  exposed. It will be covered again as soon as enough money  will be collected to continue the renovatio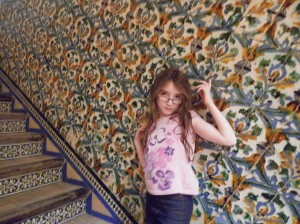 a new hotel was built in this quarter in beautiful moorish style
many pretty court yards
and the tunnels under the hotel the hiding spots for jews during the inquisition are also beautifully fixed up
in a parking garage, behind the cars this gravestone is exhibited, the only one preserved hundreds were discarded
Finally at my mum. Not enough photos taken since it is home.  I will add more photos during the month.
Gigi
Kata and Borsho coming to visit
Stadtpark
Our first walk took us along the Louvre, the city hall, the Notre Dame and across the Seine to the jewish quarter straight to the Falafel shop and back past the Pompidou and the Miro fountain.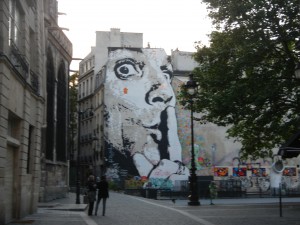 Recent Posts
Archives
Tags