Browsing articles from "October, 2012"
Manly, Sydney, NSW – Oct 29th, 2012
Shelley Beach is awesome. We did some snorkeling. Saw some big fish but the sea was a chilling 19 degrees centigrade. We only lasted about 20 minutes. On a warm day, this is the place to be.
Featherdale Zoo exhibits Australian animals. They're weird and wacky. And there are alot of varieties. At Featherdale you can pet the Koala and touch other animals. See Avia's slideshow of our visit. Click Here.
Katoomba, NSW, Friday October 26th, 2012
Abseiling, is the art of sliding at speed down a rope like an elevator rope but usually its a rope on the outside of a building or mountainside. It's like sliding down a long fireman's pole. So as you can imagine the ride is quite a thrill.
The difficult part is finding the courage to walk backwards off of a cliff. Once you've conquered this fear, abseiling is easy.
You need to keep your feet high enough on descent so that when you swing towards the mountainside, you connect feet first, not face first for what our guide called "a complementary face massage".
We abseiled 5m, 15m and 30m. In abseiling the 15m cliff, Avia broke the local record for shortest person to abseil 15m in the Katoomba area, and one of the few 8 year olds to do it. She caught her foot on the cliff-side and hung there for a few minutes. The she thought she was about to land on the top of a tree.
Here are Yannay and Daniela going down a 15m overhang.
and here they keep on going
Muri Mittagar Aboriginal Cultural Center, 25th October, 2012
Outstanding footage from the recent Boomerang champs.
The Margherita Index tracks the price of a Pizza Margherita in cities around the world. The cheaper the Margherita, the lower we assume the cost of living to be.
Place                                           Price in Local Currency                  Rating Price in USD
Rarotonga – Roadside                                     NZ$ 7.00                    *****
Rarotonga – Restaurant                                   NZ$ 17.00                       *
Tahiti – Roadside                                         XPF  850                       *****
Tahiti – Restaurant                                      XPF  1,180                                                                                              *****
Auckland – Restaurant                                    NZ$ 10.40                                                                                              **1/2
Katoomba – Restaurant                    A$17.00                         ***
Manly – Restaurant                                       A$ 16.00                         ****1/2
Bondi Pizza, Sydney – Restaurant A$24 **
Permuteran, Bali RP40,000 **
Ubud – Bali RP35,000 ****
Jemeluk Bay – Bali RP35,000 **
Vietnam
Cambodia $3 – 6 ****
Surrounded on all sides by the dreaded needle fish, Daniela strenghtened her resolve; searching for any gap between the fish, she swam for an opening. Whew, made it.
The needle fish is a little, transparent, sardine like fish with a pointed nose.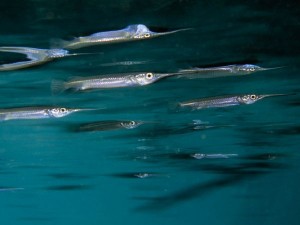 Editor Comment: Daniela reminded me that they do resemble mini barracuda, which we agree can be agressive.
The Polyiasian islands -what an experience. After Borra-Borra  we anchored outside of Huahine and Tahaa. During the day we took the Dingy to beautiful places and in the early mornings and at night we dove of the boat. The sea life is unbelievable.
Huahine: WATCH VIDEO HERE
http://www.youtube.com/watch?v=yLkknP3JUio
Taha'a: WATCH VIDEO HERE
The greatest part of being on a boat is being able to move around and being able to enjoy the best of all islands without having to leave your home.  And Olivier -the captain on the catamaran was amazing not only at moving us to the right places.  He took us to all his favourite spots – to the sharks and the rays and the beautiful coral gardens. But also giving Yannay knot tying and sailing lessons and teaching us about the sea life and the polynasian culture.
October 15th, 2012. Taha'a, French Polynesia
The lion fish is a brown and white banded fish with large dorsal fins containing venomous spikes. Related to the stonefish, lion fish hide under ledges. We saw two lion fish heading for their lair under a large rock on a slope at about 2 meters undersea. David screamed though his snorkel at Yannay that they were seeing an unbelievable sight. It felt like viewing a leopard, rare, exciting and slightly unnerving.
Recent Posts
Archives
Tags