Browsing articles in "Videos"
Avia and the cow bell
Water powered merry-go-round
Team blacksmithing, Inle Lake
How to catch fish, one at a time. Traditional Inle Lake fishing.
http://www.youtube.com/watch?v=imIE6oRBC7k
When David was a boy he'd get to school early for a game of pre-class soccer and then stay late for a game of post class soccer. Here's an unedited video snippet of how the game is played in a Cambodian village.
This large animal park's animals were taken from traders in exotic animals. It holds two spectacular Asian leopards, leopard cats, many tigers, Asian antelope we'd never heard about and a few large Captain Hook type crocs (teeth exposed along the line of their mouth like the below photos from an internet site) and the world's smallest bear, the sun bear and related moon bear. These are the bears you see in circuses and are hunted for their bile, used in local 'viagra' formulae.
Unique Petting Zoo
It's also a unique petting zoo. You can pet the Gibbons. In fact they like getting scratched and tickled. And you can scratch and feed the elephant. For a family that like to touch animals (except for Dad) this is a satisfying way to spend time.
http://youtu.be/FKvhguBj3fM
http://www.youtube.com/watch?v=FKvhguBj3fM
In an entertaining and funny demonstration, Chourn Im shows us how to properly use a towel or other piece of rectangular cloth.
A short interview with guests at an eco-hotel in the Mekong Delta.
The Viet Cong underground who fought the US in South Vietnam literally lived underground in 200 miles of camouflaged tunnels. Check out this 15 second video.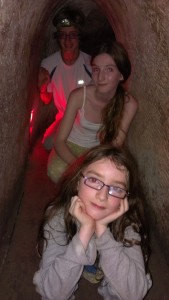 Recent Posts
Archives
Tags