Browsing articles in "Thailand"
If you've been to Bangkok, you've see Wat Phra Kaew. What follows are a few unusual sites:
If you go down to the beach today you're in for a big surprise. If you go down to snorkel today you'd better go in disguise. For every dive operator to be found will sell you the Similian Island trip. But you'll go there and all you'll find are dead corals lying around.
You need to head north to Ko Bon to swim with turtles. Somtimes you see Manta Ray, we didn't.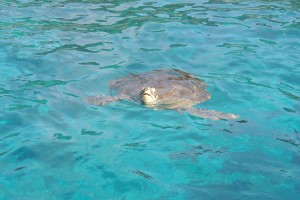 And further north the whitest and softest sand beach of Ko Tochai – photos by Yannay
Then just South of Myanmar, the coup de grace, Surin Island underwater wonderland. Are you ready? Here we go: dozens of juvenile black tip sharks; tons of white sea horses; lion fish; barracuda; stonefish; all sorts of eels (yuck); puffer fish, and for our first time, clown fish. Tropical fish, fish wherever you look. Coral. Fish. Life like crazy. Go to Surin.
More photos: