Browsing articles in "Blog"
It's like walking around  in the board game.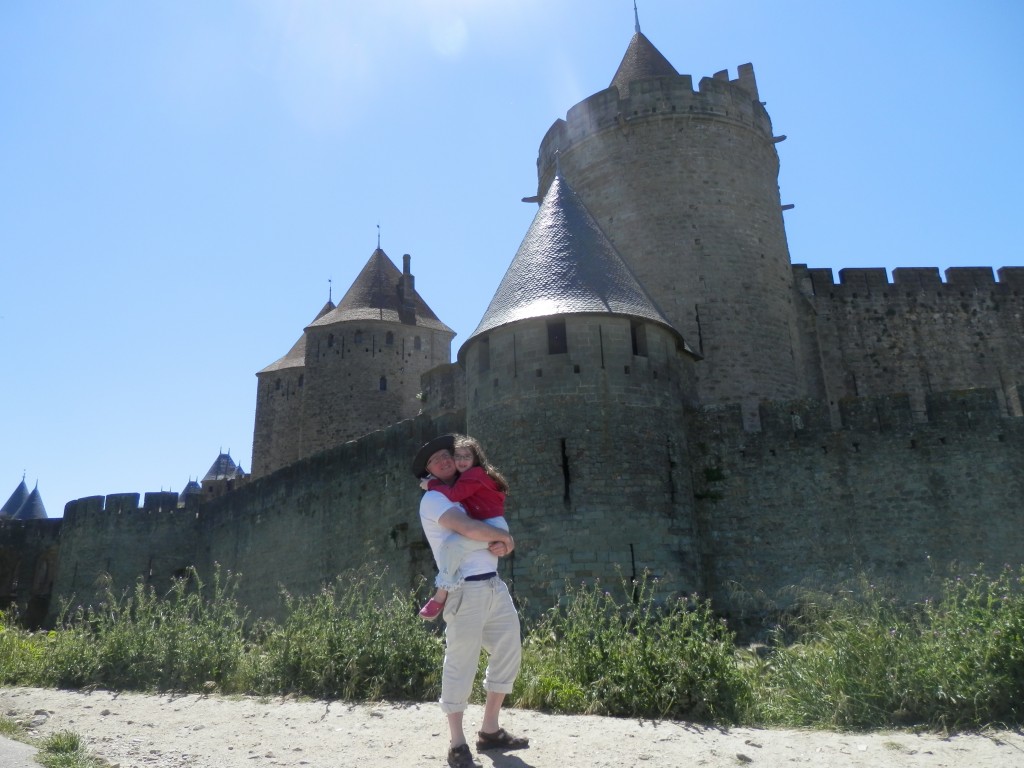 We arrived in Florence on Friday the third of May. We'd come by train from Montevarchi. The whole trip we passed small rundown stations, so when we arrived at Florence  station we were surprised at how big and modern it was (even though Papi continuously said it was). First we went to Michelangelo's sculpture of David. But we couldn't get in so we went to see Donatello's David (David and Goliath). I thought it looked gentile, David stands in a very female position and looks like a child. Michelangelo's Bacchus (Roman god of wine) looks dizzy and unsteady, like he is about to fall over. Made for Raffaele Riario whom rejected it and was sold instead to Jacopo Galli. Giambologna's Mercury is supposed to look as if floating but it doesn't give much of that impression to me.
We saw all these in Nazionale del Bargello.
Then we went to Piazza della Signoria a famous square. There we saw a sculpture of Perseus slaying Medusa by Cellini Medusa had snakes coming  not only out of her head but also her neck where she was slayed  . But the highlight was a drinking fountain that ran two spouts, one natural water, the other sparkling water. Finally we saw Michelangelo's David and sculptures of slaves by Michelangelo that were unfinished. If you look at Davids eyes you will see that they are heart shaped. When we left we were tired. We got ice cream and went back to "our little house in Tuscany" .
When we went to Pisa, we went to the leaning tower of Pisa. Everyone there put their hands out and pretended to lean against it. My dad asked us before hand to think of something different to do. The day came that we all went to Pisa. It was a long drive, but we finally got there. We didn't go straight to the tower, first we went to find somewhere to eat. The tower was in view. After lunch we went to the tower. We went to a very green spot. We did Yannay's idea first. Yannay's idea was: Yannay and me leaning on the tower while reading a book.
After that it was my dad's turn
Then came my turn. I did:
Then it was my mom's turn. She did:
Us all except my dad in a line beside each other not in front or behind and leaning against it. It did not work.
So we tried other poses:
I had another idea, but we  were leaving.
Afterwards we went opposite  the restaurant that we ate at. It was a Gelateria (ice cream) but there were crepes, so me and Daniela ate crepes.
This is my drawing of a randomly coloured leaning tower of Pisa.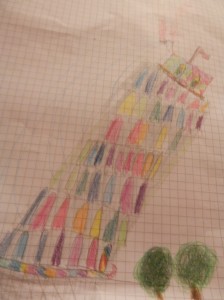 We arrived to Lido de Jesolo to refresh memories of the vaccations in my childhood. Getting out of the car was a challenge. The winds were so strong that we could hardly open the doors. The next day the storm had calmed down and we went for a walk. We built a sandcastle and were surprised by pouring rain again. Soaking wet we made our way to the car to drive to Venice.
From our little house in the Tuscan paradise we went on trips to Sienna, Florence and Pisa.
-on the Piazza del campo, Sienna
-the heart of the town and a beautiful square with a wonderful atmosphere. After a 600 year old tradition this square turns twice a year into a track for the famous Palio horse race.
-and hundreds of stairs worth climbing for this view
celebrating Aharon at Abraham's tent