Browsing articles in "Myanmar-Burma"
                                                                         fireman leaving on a mission (what a beautiful old fire truck)
so fresh

 Yannay needs Sandals-
unfortunatly these really cool     ones made  out of recycled tires are not comfortable for our city        feet.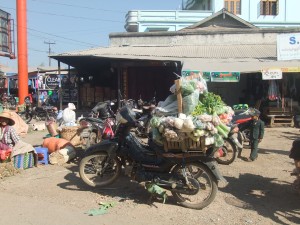 I love to watch motorbikes in Asia as they are used to transport literally everything  - here with piles of shopping from the market
and here with piles of children (pick up from school – similar school uniform to ours) We have seen trees, huge piles of boxes, geese, pigs, covered with birds cages and bamboo house walls, being transported. ( They are just too fast to be photographed)
Avia and the cow bell
Water powered merry-go-round
Team blacksmithing, Inle Lake
How to catch fish, one at a time. Traditional Inle Lake fishing.
http://www.youtube.com/watch?v=imIE6oRBC7k
Yangon is a city of contrasts on the move. It has in one vision modern concrete and glass buildings and at street level typewriters ready to produce documents for the illiterate. Notaries sit roadside among fortunetellers and bird sellers. A mix of ethnicities is everywhere. Old buses, their instruments out of order drive alongside modern air-conditioned tourist buses. Negotiation is a way of life. Honesty and Buddhist symbols are prevalent. The Shwedagon Pagoda, a place of pilgrimage, towers over the city. We visited it twice. Amazingly, no soldiers or policemen are evident. We saw no guns. People tell us that the secret police are all around. We couldn't tell. (In Russia of old it was much more obvious. A shaven haired stern looking man in an overcoat would stare at you.) Perhaps in Yangon we were watched. We think not. This is a place on the move.
Click on any photo to enlarge it.
Monastery
Here's a 65 meter reclining Buddha. On his feet are carved symbols of his life and the story of his birth. Theravada's Buddha is thin and sometimes feminine. The fat Buddha is in fact not a representation of Siddhartha Buddha but of a Chinese monk who claimed upon death to be a Buddha.
The legend says that when Siddharta was born, he was born with many signs on his feet ( in the photo). His father called all the fortune tellers of the Kingdom to ask them for the meaning. All the fortune tellers said it means that he would one day become the Emperor of the universe or the Buddha. The youngest fortune teller said that one of the signs on his feet was the sign of the Emperor and therefore he must become the Buddha.
Mandalay is a dusty town with impressive temples. Going east into Shan (Thai) country …
click on a picture to enlarge it
MANDALAY WORKSHOPS
Not shown: puppet workshop, material mosaic workshop
TEMPLE LIFE, MANDALAY
ROAD FROM MANDALAY TO HSIPAW pronounced Ti-paw.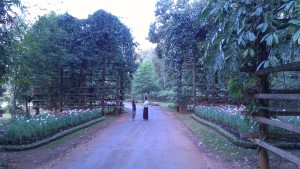 HSIPAW an interesting outlying town on the way to China
In Bagan, Myanmar there lives a stone. Captured in 1112 and now in jail for a thousand years, it tells of … it doesn't matter… the point is that it has four sides each written in a different language: Mon, Pali, Old Burmese and Pyu. And as a result of this linguists were given insight into these ancient languages. This  Myazedi inscription can be seen near the Myazedi stupa, in it's own cell.
People come from far and near to be photographed with foreigners next to the inscription.
Bagan is one of the world's gems.
Bagan is situated on a red earth, scrubby, plain. Over the course of 250 years (from 1044 to 1287), Bagan's rulers and their wealthy residents showed it off by building over 10,000 religious monuments in an area of 104 square kilometres (40 sq mi).  (about 1000 stupas (towers containing Buddhist relics also called pagodas). Today, about 4,000 remain.
In twenty years Bagan will be a must visit place on any itinerary to Asia. Today it is a place of sand roads, run down hotels and home based restaurants.
Recent Posts
Archives
Tags